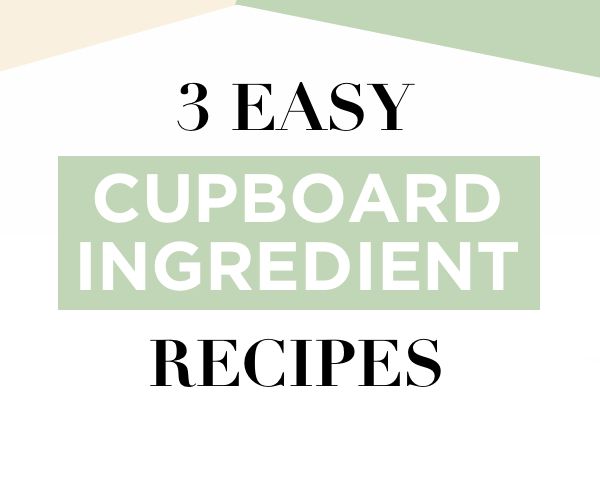 Is anyone else struggling to feed themselves three times a day? Where we would usually grab a quick breakfast, get a sandwich from the work canteen and eat out for dinner now and then, we're getting bored of our go-to recipes very quickly. It also feels like all we're doing is washing up now all our dining is done at home! If you can relate, we're here to inspire you with some quick and easy recipes and the best part is, you've probably already got the ingredients at home.


From a very Instagramable smoothie to a healthy pizza, our Islanders At Home have shared their favourite eats and how to make them…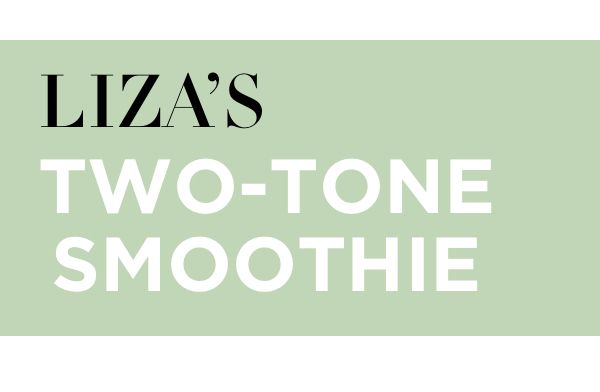 My boyfriend and I have this for breakfast every day after our morning walk. Not only does it contain the rainbow, it's also full of nutrients, antioxidants and vitamins. The protein is great for cell and muscle repair and the added collagen is brilliant for overall skin health. I change the ingredients depending on my mood, seasons and availability. Feel free to swap out what you don't like for something you prefer. You could use berries, apples, kale, cucumber, melon or mango - the list is endless! Just remember to have fun with it and stay healthy!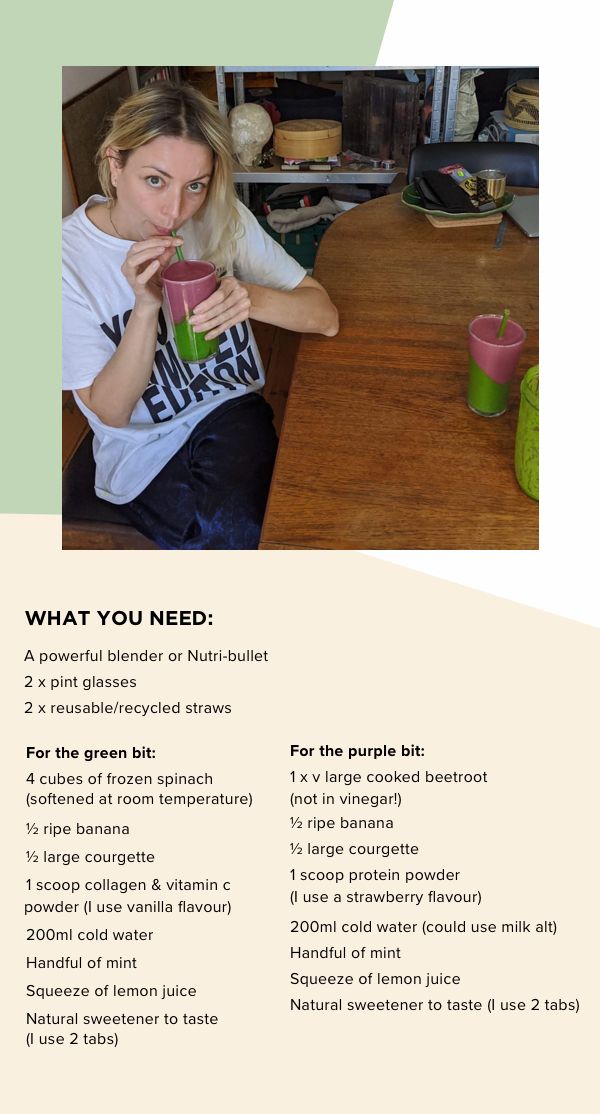 Combine all ingredients for the green smoothie in your blender and blend until its completely smooth and creamy and there are no bits, normally around 1 min for me. If it looks lumpy or like it could be better, blend for a little longer. DO NOT overfill your Nutri-bullet if using one as it prevents it from aerating and getting all nice and creamy. Share the green smoothie evenly between the pint glasses, don't fill more than halfway, drink any excess (perks of the job). Then combine all ingredient for the purple smoothie and again blend until completely smooth and creamy, same rules apply as before. To achieve the two-tone layered effect, take the first pint glass and slightly tilt pouring the purple smoothie in at the tilted edge of the glass so it sits on top of the green mix and doesn't sink to the bottom. Repeat with the second pint glass and drink any excess (perks of the job).


Stick in a reusable straw and ENJOY!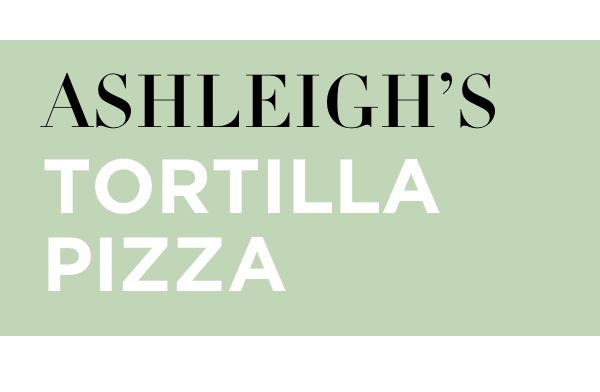 This tortilla pizza is so versatile! Switching up your tomato base (you can even try pesto - yum) or toppings makes this dish different every time and best of all, you can use up those wraps in the cupboard that have gone a little hard. The tortilla base is super light and it's great for lunch or a lighter dinner. Take off the cheese and you've got a dairy free version, take off the meat and it's vegan.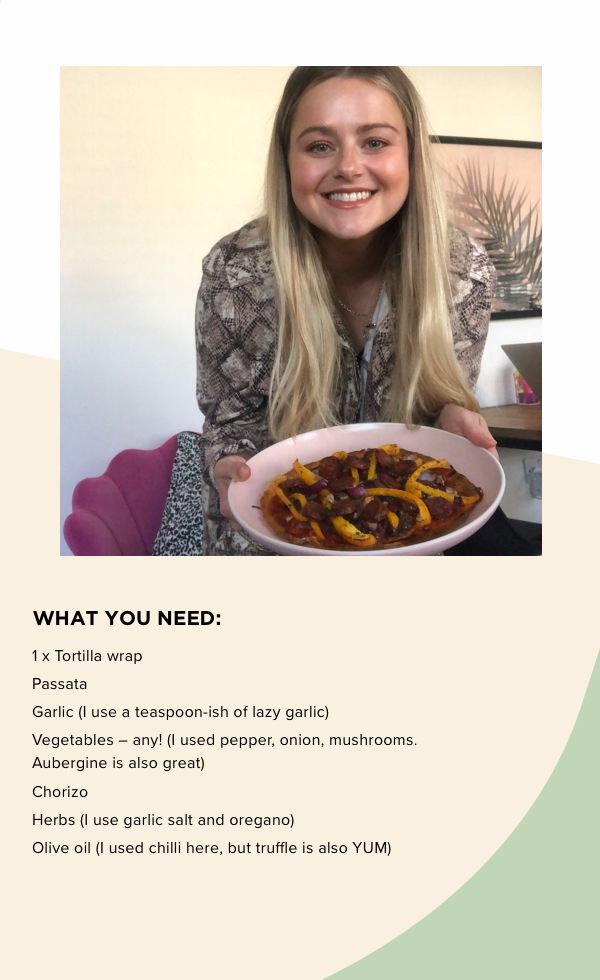 Heat the grill on the fan setting to 180 degrees, heat a pan with a little oil and fry all the veg until lightly browned. Take out the veg and put the wrap in the pan and heat it for one minute each side – you want it toasted enough so that it's a little rigid. Mix a teaspoon (or however much you want) of crushed garlic in with your passata, put your toasty wrap on a baking tray and spoon on the passata/garlic mix. Add your vegetables, add your chorizo on top and drizzle over a little chilli oil.


Put it under the grill for 10 to 15 minutes and then take it out and shimmy it on to a plate.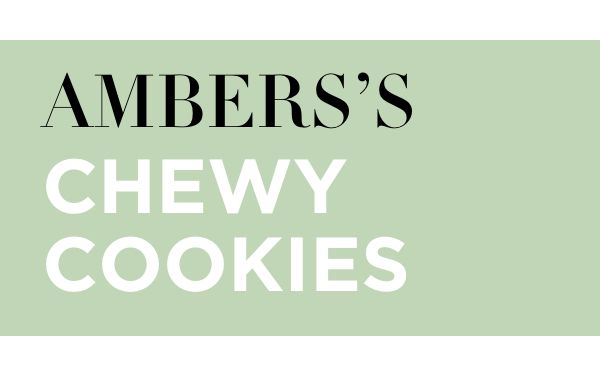 With the extra time we've been gifted during lockdown, I've turned to baking - something that my housemates are very happy about! These cookies are deliciously chewy and ridiculously moreish – I dare you to try and have just one. I used up some easter chocolate but you can make these with any chocolate you fancy, get creative.


These are the perfect sweet treat to brighten up your day!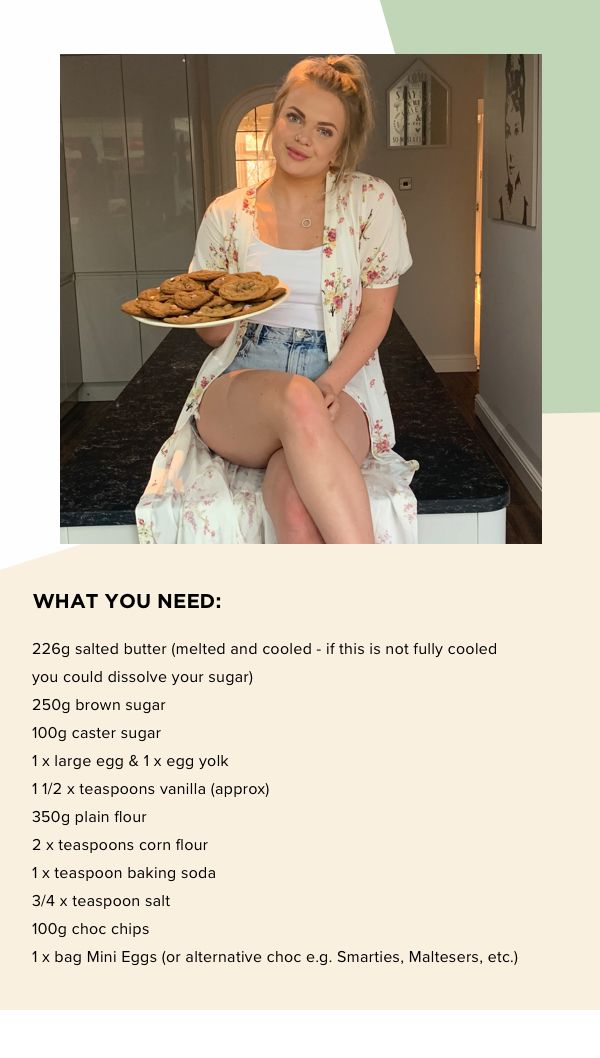 Melt and cool the butter, then combine the butter and sugar in a large bowl. Add the egg and egg yolk and whisk together with the flour, corn flour, baking soda and salt. Gradually add the flour mixture to the wet ingredients, then stir in the choc chips and mini eggs. Don't forget to keep a couple aside to put on the top! Put dough in the fridge to chill for 30 mins (this makes the cookies chewier when baked). While the dough is chilling, pre heat the oven to 180C and prepare the cookie sheet(s) with greaseproof paper. Scoop the dough (approx. 1 1/2 tablespoons worth) and place them 2 inches apart on the baking sheets and then bake for 11 minutes. The cookies will still be very soft to the touch when they come out of the oven but after being sat out for 30 seconds they will start to harden and form a crunchy outer. If you bake them too long, the cookies with be crunchy all the way through instead of chewy on the inside.


While they're still warm, use the additional mini egg pieces and choc chips to push in to the surface of the cookies. Serve and enjoy!