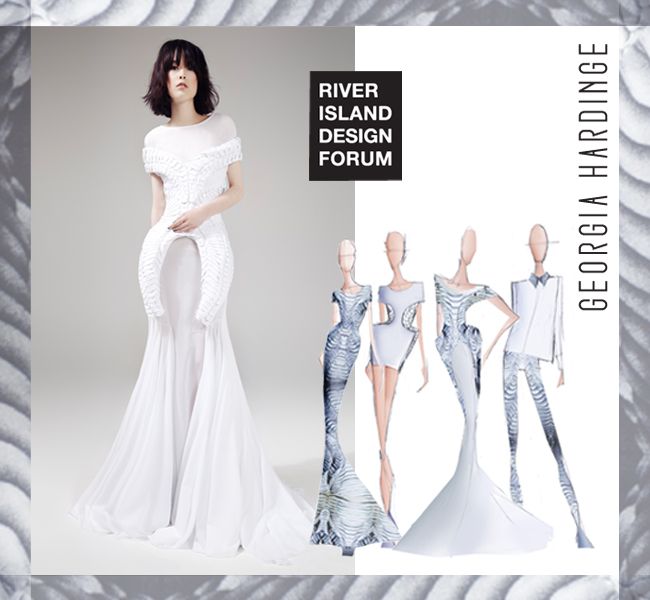 Representing River Island Design Forum for Spring/Summer 2013 we have young British designer, Georgia Hardinge.

Georgia has created a 14 piece collection for her first high street collaboration, which will be available to buy in selected River Island stores and online in March.

Taking the work of the surrealist sculptor and painter, H. R. Giger, as her inspiration, Georgia has designed a range of clothing and accessories featuring bespoke 2D prints which give the impression of 3D sculptures.

Ahead of its release in River Island stores and online, Georgia's collection will launch via short film at London Fashion Week's biannual Fash/On Film Festival: the initiative we created with the British Fashion Council to support and develop film within the fashion industry.

Georgia's Design Forum film was created and directed by the talented filmmaker, Alex Turvey. We went along to the video shoot last week and can't wait to see the finished product - it promises to be a real spectacle! In between film takes we quickly chatted to Georgia about her range. She commented:

"Working with a really strong team of people at River Island has been a great experience; it's so nice to have lots of people to make my designs a reality. It is nice to be a part of something so new and I definitely think this is the way forward for the high street, making a luxury product become accessible to all."

Luxury accessible to all? We like the sound of that! We can't show you the whole collection yet but you can bet it's going to be worth the wait. We'll keep you posted with all the updates and the release details here on Style Insider. Until then, what do you think of the sketches and preview of Georgia's range so far?