This week sees the return of London Collections: Men and with a little help from stylist and presenter Stevie Style, we'll be bringing you a daily round-up of all the latest shows and trends and a look at what Stevie has been wearing.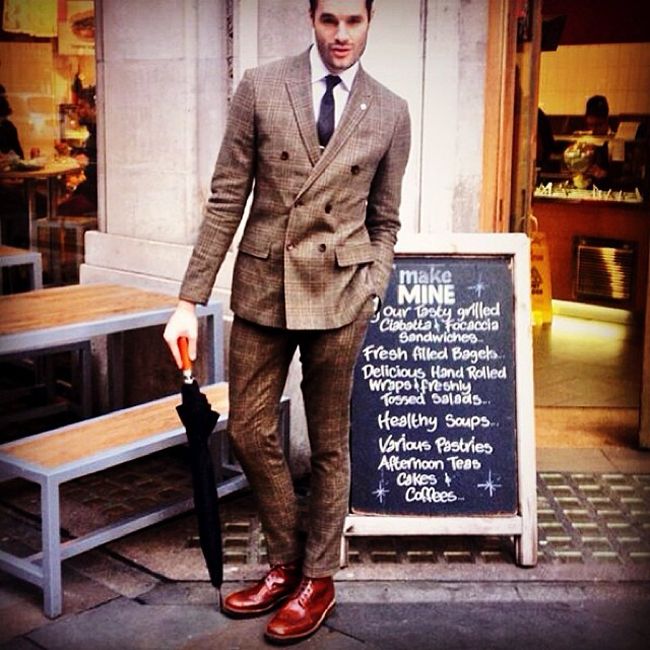 Shop Stevie's look here: Suit Jacket, Pants, Shirt, Tie, Boots.
Today I was inspired by my Christmas in the great British countryside. Quite the landed gentry! With a warm tweed suit to Ward against the cold of today's winter chill and heavy brogue boots to keep my feet dry from the driving rain as they did on the Scottish highlands where the brogue originated from.

Read on for more on some of our favorite shows...
Fashion East
A typically directional offer from the new lineup at Fashion East. Highlights included the dystopian nightmare of monochromatic grunge that is Liam hodges...classic military boots finished with metallic toecaps and a layering of alternative fabrics and statement overcoats. Genius use of duct tape to boot!
Richard Nicoll
A simple sleek collection of bright color blocked outerwear and frilly prom shirts erred on the commercial side for Nicoll. A subtle yet welcome change in direction! Hero pieces this season would have to be in the teals and hot pinks, particularly the biker jacket and boxy overcoat.
Joseph Turvey
Joseph Turvey seems to have taken the collection to a more grown up place this season. Signature print techniques from Turvey have progressed with artful approaches to luxe fabrication. Look out for the baby pink lace bomber jacket and razor sharp tailoring, particularly a print powder blue number. Onwards and upwards Joseph!
Have you been keeping up-to-date with LC:M? Which shows have caught your eye? Let us know by commenting below or Tweeting us @River_Island.