This week sees the return of London Collections: Men and with a little help from stylist and presenter Stevie Style , we'll be bringing you a daily round-up of all the latest shows and trends and a look at what Stevie has been wearing...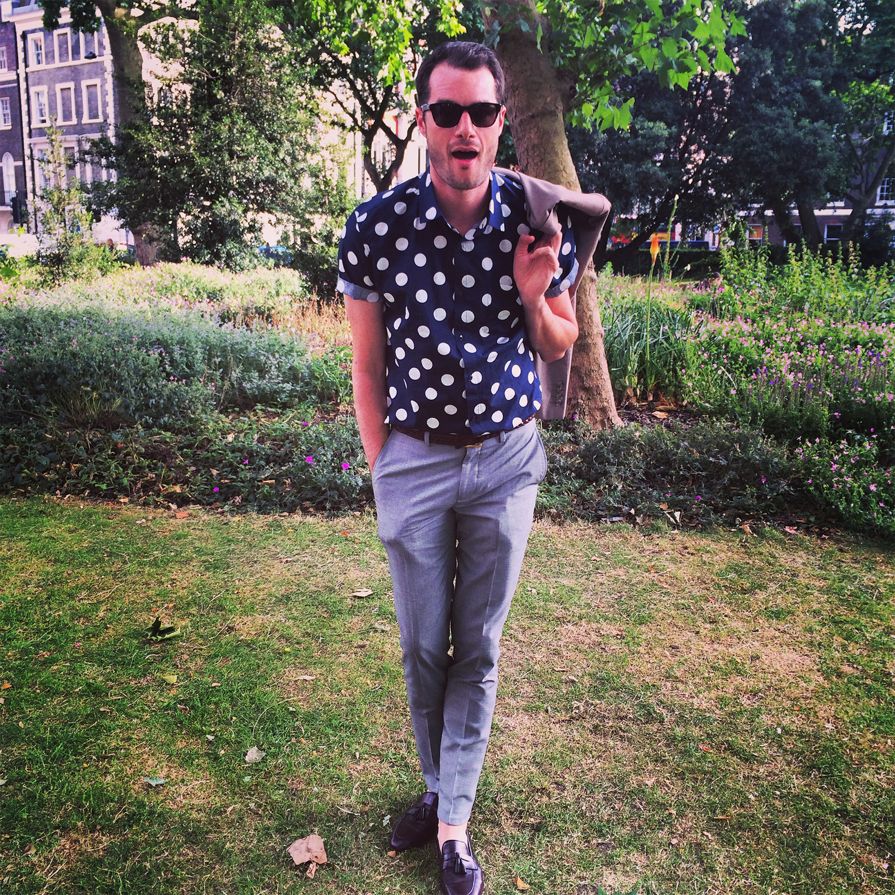 As it was glorious weather today I decided to loosen up from full tailoring and went for a more relaxed look. I love a loafer and the River Island tasselled ones that I wore today are elegant and perfect for warm weather. I opted for a bold and playful shirt which I loved as soon as I saw it, and being short sleeved it meant I stayed cool as the temperature soared.
The final day here in London at this festival of fashion was bathed in sunlight. The clothes were as brilliant as the weather.
Xander Zhou is a designer who's going from strength to strength. Some of my favorite pieces from the show were the relaxed tailoring and longer length suit jackets and cropped blousons.
Baartman & Siegel are a brand I've been keen on for a while, so I'm delighted to see that they've collaborated with River Island. I attended the screening of the fashion film last night as a teaser for Septembers release and can't wait to get my hands on some of those pieces! -
Baartman & Siegel's full collection was also really strong today; midnight blues and rich greens were the main colors across a sports luxe collection with lots of technical outerwear and strong details.
My favorite show of the day and I'd say one of my top three from LC:M was the A. Sauvage show. Great tailoring with a rock edge was the theme and a there was a great use of prints, with green African inspired leafy motifs covering all manner of pieces from tailoring to t-shirts. The stand out piece had to be the biker leather jacket with the same print.
Nasir Mazhar closed the proceedings with his collection of branded urban sportswear. Basketball inspired shorts and gold highlights were my favorite touches in this bold collection.
That brought an end to another excellent day. Yet again it cemented the reputation of London as the forefront most dynamic and energetic fashion week in the world. I can't wait to see what's in-store for next season!
Take a look at his video round-up plus read our guest post from Menswear Fashion Magazine's Editor-In-Chief Paul McGregor here.
Are you keeping up to date with London Collections: Men? What do you think of Stevie's outfit? Let us know in the comments below or tweet us @riverisland.