Eimear Varian Barry is a super-woman in her own right; super stylish, super photographer, super blogger... the list goes on. As if all of that wasn't enough to keep her busy, Eimear is also super mum to adorable 22-month old Saoirse and is expecting baby number two.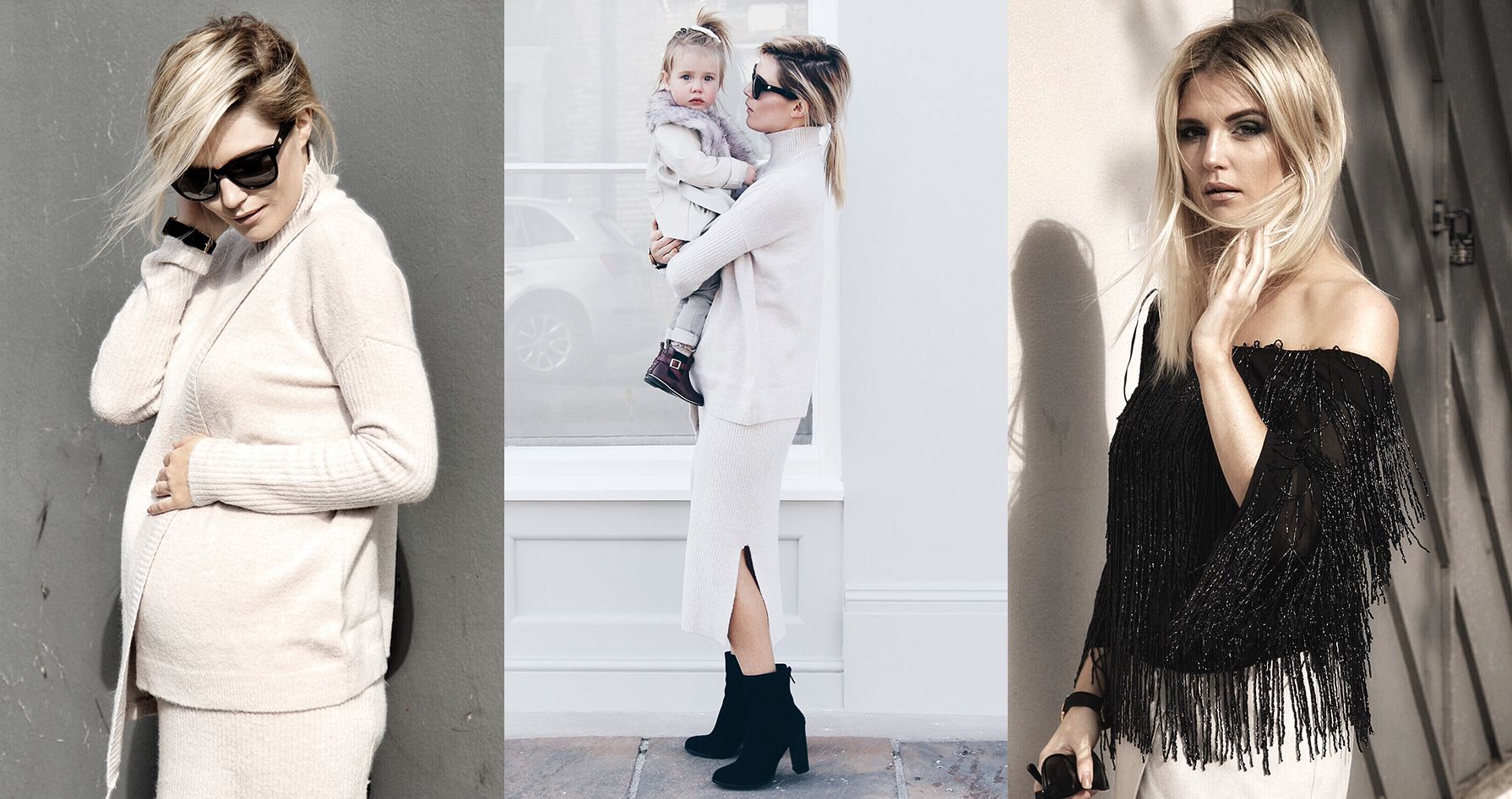 Her blog, The EVB Edit, focuses on fashion and lifestyle presenting her work and collaborations and with over 30,000 followers on Instagram it's clear that she's one to watch. When she's not busy working on her next project or shooting her next piece of content, Eimear loves to spend time in her Surrey home cooking a Sunday roast and getting creative with arts and crafts with her daughter. "I'm always looking on Pinterest for arts and crafts ideas to do with Saoirse", Eimear tells us. "I usually shoot in London on Saturdays to get content for Instagram, but on Sunday mornings I love exploring the cute Surrey villages and taking Saoirse to the woods, parks and the farm nearby. On Sunday evenings I go into housewife mode and love to spend my time in the kitchen."
Speaking of the kitchen, we can't help but salivate as Eimear tells us about her favorite thing to cook. "At the moment I'm making lots of stews. I bought a slow cooker and love to leave the lamb in there for the day so it's super soft. I throw in some garlic, onions and rosemary, then pour red wine over it and leave it to do its thing- so good with yorkshires and goose fat roasties!" Fancy trying out some of Eimear's recipes for yourself? Check out the food section of her blog here.
You might be wondering how Eimear has time for anything else let alone managing her blog full time. We asked her if she had any advice for mum's who are thinking about starting their own businesses. "I'm 28 and it has taken me this long to discover what I am really meant to do, having Saoirse gave me so much more focus and drive to want a content life." Running her own business wasn't always part of the plan for Eimear, "I didn't study business at school and am the daughter of an artist and a writer. So you can imagine how much I have had to start from scratch!" "The best advice I can give to a mum starting her own business is to know when it's right to take the plunge", Eimear tells us. "You need to recognize if you are being delusional or realistic about what you can and cannot achieve. Everybody's situation is different, so don't even begin to compare yourself to others. Just keep your head down, do your thing and it will happen."
With Christmas creeping up on us, we asked Eimear to give us her tips for festive dressing. "Dressing up for Christmas is imperative! It's a special occasion and is such a great excuse to go shopping." Take a look at Eimear and Saoirse's favorite festive outfits below and shop their looks...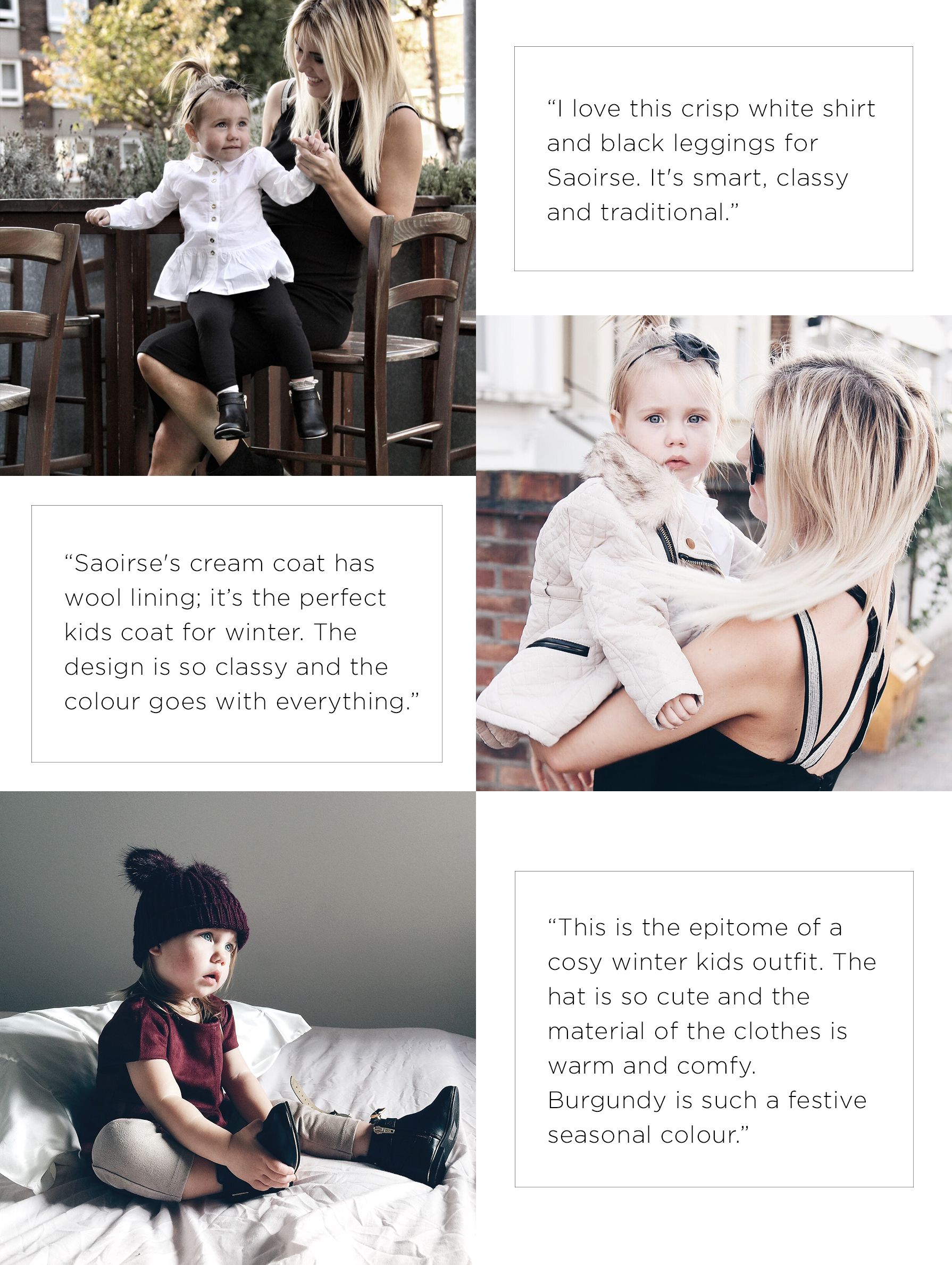 A self-confessed Christmas addict, Eimear loves spending time at Christmas markets during the holiday season. "I went to Winter Wonderland last year and it was epic! Try to go during the week to avoid the massive crowds. My favorite markets to visit are London's Southbank, The Country Living Christmas fair and Angel Christmas Fair." As for this year, Eimear will be 7 months pregnant so plans to leave things to her amazing Mother in Law. Sounds pretty perfect to us.
How will you and the family be spending Christmas this year? Let us know by commenting below and don't forget to share your little ones' RI MINI looks on Instagram and Twitter using #RImini
PHOTOGRAPHY: Sarah Blake from @thebubblecollective